Day 610 22nd March 2018
Tatuape
Day off bike
I was up at 8 for a good brekkie of sausage sarnies with cake, coffee and OJ.
A nice easy day, a bit of washing followed by a walk to buy a lock and then lunch at a cafe of chicken, chips, rice and beans. Then a little siesta and off to watch Corinthians second leg of Paulista quarter finals. I got to the ground ok but cheap tickets were all sold out so I had to pay £18 for a good ticket on the side of pitch.
Great stadium in the middle of nowhere, all very new and very impressive.
The team performed today for the fans and scored after about 35 minutes with a bullet shot of an own goal. Then just before half time the number 8 picked up the ball on the wing, cut inside and unleashed a screamer into the top corner. The crowd went crazy and deservedly so as they were now ahead on aggregate. The opposition didn't offer much in the second half and they saw out the tie in style. It was a great atmosphere and they celebrated in style.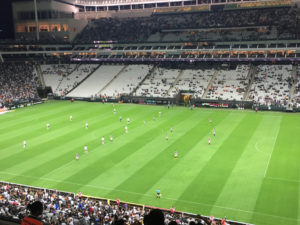 I got the train back to Carrea and had a beer in a bar before getting to bed at about midnight.
Hostel Tatuape 57 reais.

95total visits,1visits today