Day 61                                            18/9/16
33miles ( Horcajo de Los Montes  to Puebla de Don Rodrigo) Average speed 9mph Top speed 38 mph

I've just had the best 2 days. Back to back favourite rides; yesterday was a brilliant 80 miles finishing in the dark, having ridden into the sunset. Today even surpassed yesterday. The Toledo mountain range is truly magnificent for a cyclist. As long as you like big climbs and fast downhills. Today was shorter at 30 miles  but even more stunning.
I didn't start till 1pm  after a swim and a chat with Diana and a couple of coffees. It was a big climb to start and I knew it would be tough but even after yesterday's exertion my legs responded. It was worth every climb as the scenery was breathtaking.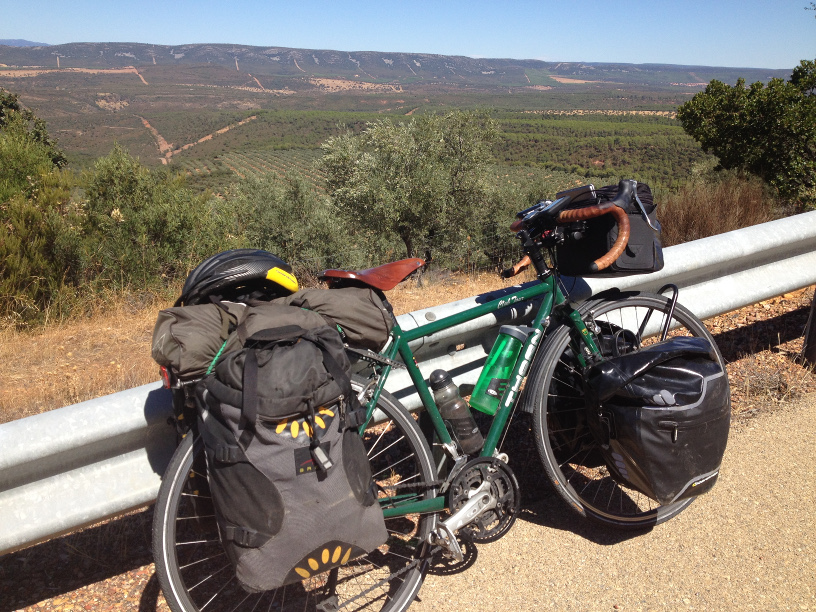 Photos do not explain the beauty or the smells or the silence. The wildlife too.
I'm pretty sure I saw bluebirds today. The best skiing is described as bluebird days and today was just that without the snow. I only did thirty odd miles but they were spectacular all the way. I stopped for lunch in a bar where they let me eat my sandwich on the terrace and charge my satnav and supplied ice for water bottles All for the price of two Fanta limon.!
I'm now in a room for €25 with air con and no one else is here so I'm having a party in my room! Tunes blaring out and batteries charging. Great but they don't take cards. So I had to find a bank but that meant I met locals.
I'm sitting watching Real Madrid v Espagnol in a bar with tapas and very loud Spaniards.€8 for 3 beers and tapas and a very large Ballentine's and coke. Bargain.

If you want a room in Puebla de Don Rodrigo you need to ask the lovely lady at the Repsol garage as she's in charge of habitation! Life doesn't get any better!
Aircon room behind garage €25

389total visits,1visits today