Day 655 6th May 2018

8 miles (Foz do Iguaco to Cuidad del Este) Average speed 6.9 mph Top speed 25mph
I was up at 8 for brekkie but I couldn't face much, so just a ham and cheese toasted sarnie. Then I showered and packed and spoke to the lovely receptionist, but she had no change for me to pay, so I had to wait for the rain to stop. I got change from a poncho salesman and paid. I left at 10.30 and took the quieter road nearer to the river, which had less traffic and therefore less splashing of puddles. It was a bit more up and down but at least I stayed dryer.
I was soon at the border just as the rain began again. I got rid of my loose change buying a Fanta. Then it was crunch time; the girl behind the desk was just about to plunge the rubber stamp when she noticed the date of arrival and then the questions began. She called another girl, who spoke better English, and I explained my mistake. Then the paperwork and my passport were handed to a guy who spoke still better English and he explained the situation to me. Thankfully I was free to go, but would have to pay 5800 reais if I ever wanted to enter Brazil again.
It was a great relief to get into Paraguay and no longer be an illegal immigrant!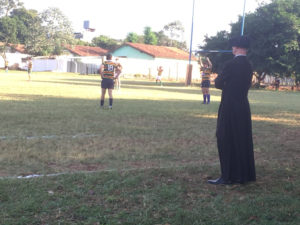 Following a wet welcome to Paraguay I found a priest watching rugby (Francoes buffalos rugby team) and a charity event for lunch.
Hostel teko 75000 giaranis(£10)

174total visits,2visits today