Day114 10th November
41m
Another great day. This time mostly downhill.
Last night the boss gave me the bill I asked for but forgot to add on last night's accommodation fee and I only had €14 left so I was not disappointed when after having a coffee he only charged me for the coffee. Set off in sunshine for a good ride to Malaga.

Stopped for coffee and met Tim, Jackie and Juan their translator. I said Good Morning when I noticed them speaking English and Jackie apologised for not recognising me! Apparently she was surprised for a stranger to say hello. She also said there were plenty of English in the area. We had a good chat, they had lived there for 14 years and Tim was obviously well travelled. Jackie is a writer and may be interested in a book of my journey! She is now following SPC.
Then I overtook a JCB and a VW camper van.
Later I overtook a road cyclist but he caught me up at the next hill. We were playing cat and mouse all the way to Cartama where I stopped for empanadas and lemonade from Carrefour. I bought a lipsyl from the Chinese market as my lips were sore. Then carried on downhill to Malaga. A brilliant ride with the wind behind me. When I arrived I found the Sherlock Holmes pub and expected wifi to work but they had changed the password since I was here last. The barmaid was having her lunch next to me but didn't mind me interrupting her to sort out wifi, so that I could FaceTime with Vernon and reply to emails. Then found my way to Airbnb to meet Victoria but was still early so I had a beer in Charlie Chaplin bar.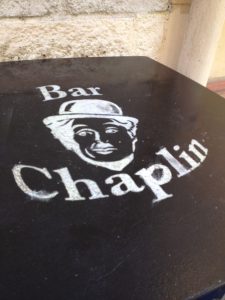 Charlie Chaplin Bar
Victoria was waiting in the balcony when I got there and handed over keys and helped with my bags. I went shopping for food and had a sarnie. Now at the airport to meet my friend (and saviour) who is going to sign my passport for me. While there I spotted this Spanish medallist returning from Perth Australia.


1016total visits,1visits today