Day 901 7th January 2019
40 miles (Gerik to Resort Terapung Mat Shah Banding Island) Average speed 9.5 mph Top speed 37 mph

What an incredible day.

I got up at 8 and had coffee at the hotel, packed and left at 9.
I had brekkie of two egg roti with coffee. I met Abdel Malik and then set off on the 170, which made a change from being on the busy 4 which I soon joined.
I stopped at a restaurant just before the climb and had iced tea and bought some cream buns. Then I took on the two hour climb, which was at a good gradient and not too challenging, despite the heat. At the top I had a rest before getting back down the other side in 15 mins. Wow ! What a great run down and when the lake came into view it was spectacular.
I passed the expensive rainforest hotel and had a tea at Belum cafe next to the lake, where I chatted with the owner who said he could take me around lake for 250 ringgit.
I then explored accommodation possibilities and the houseboat offered me a room for 70 instead of 90, but a shop offered me a camping spot for 10. With no tent and having witnessed a family of wild boar, many monkeys and a few dogs, with no tent I opted for the boathouse. Once settled in and after meeting owner, Ali and his family, I showered and went to see the rainforest hotel before sunset, hoping to change the last of my pounds.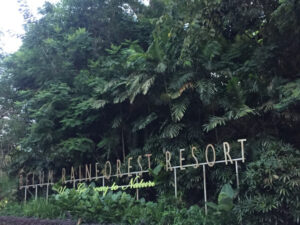 On arrival I was waved through and parked my bike. After a look around to see the infinity pool and restaurant, the barman offered me a small can of beer for 15 ringgit which I declined, but then he changed my 15 pounds at a decent rate and I took him up on his offer after considering my financial situation. We chatted for a while and I watched the sunset, then he offered me another beer on him. When I went to pay he would only accept 5 ringgit so I was very happy with that, cheers.
Resort Terapung Mat Shah 70 ringgit

84total visits,2visits today