Day 1083 8th July 2019

40 miles(Ban Phathoung to Thakhek ) Average speed 12 mph
A good day even if mostly into a headwind.
I got up late at 10 and after two large coffees courtesy of the staff kettle, I packed and had omelette with rice.
I left at 12.15 and hit the road. It was fairly flat and if anything mostly downhill. There was good cloud cover most of the time and with ice from the restaurant I didn't need to stop, so apart from one shower, which I avoided under a shelter, the day was fairly easy.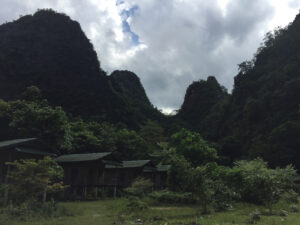 I stopped for a bottle of seven up with ice and headed for the green climbing centre. I shot past it and went back 1.3 miles only to find it closed due to the monsoon season. Unfortunately the people working on the chalets neglected to tell me it was closed and I rode through sandy wet dirt tracks to find out. I disturbed a small snake and used their toilet before finding my way back to the road.
Hostel bike and bed 55000.

33total visits,1visits today